Win2uit – The Best U.S. Based Electronic Fabrication Services
Win2uit® Electronics is an Electronic Manufacturing Service (EMS) facility. We are ISO 9001/2015 Certified with over 30 years of experience. Win2uit provides high-quality, U.S.-based electronic and metal-fabricated manufacturing services to our partners.
Above all, we develop long-term relationships with our clients utilizing our expertise in rapid prototyping, quick-turn service, and flexible scheduling.
State-of-the-Art EMS Contractor
Surface Mount and Through-Hole
Today's component circuit boards are challenging, but our full-range SMT experience means we can handle whatever you need. As designs get more complex and include both small 0201 components and large power components like Double Decawatt Packages (D2Pak) on the same design, correct oven profiling is just as important as a good stencil design.
With Win2uit's skilled technicians and equipment, we can meet almost any surface mount, BGA, and through-hole component rework you need.
Point-to-point soldering methods are normally used to replace surface mount components. We can salvage most components for reuse.
A conformal coating material is a thin, protective barrier that shields sensitive electronic components. Typically applied at 25-250 μm (micrometers), it is applied to electronic circuitry to protect them from harsh environments that may contain moisture, debris, or chemical contaminants. If a board is uncoated (non-protected), environmental conditions can damage the electronics and cause failure.
Cables and Wiring Harness Assembly
We have developed custom cable assemblies for clients throughout the US, from military cable assemblies that withstand the harshest environments to automotive wiring cable assemblies that simply have to perform flawlessly, day after day.
​As designs get more complex and include small 0201 components and large power components (as in D2Pak on the same design), oven profiling is as important as a good stencil design. Each design needs to be evaluated based on the board layers and copper thickness as well. Consequently, with the high cost of the BGAs and Leadless pats, Win2uit has developed unique techniques to evaluate QFN and BGA solder joints without damaging the parts.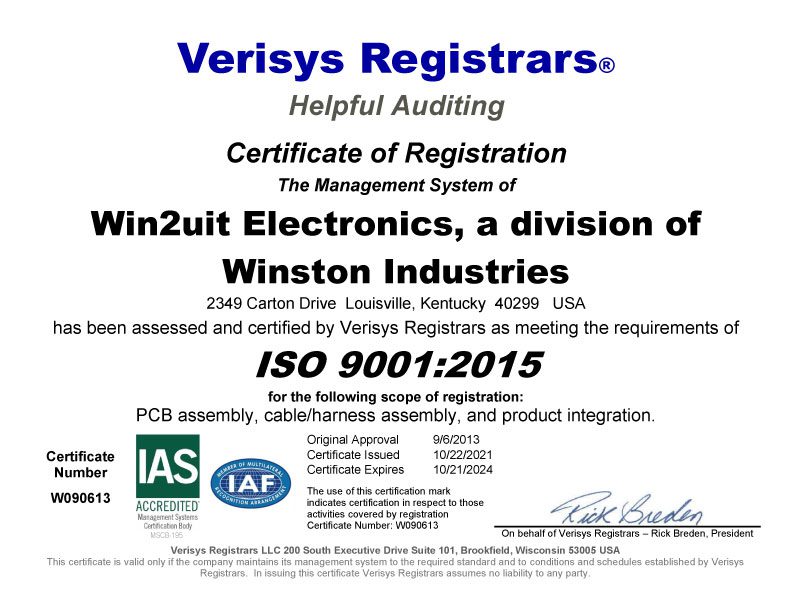 ISO 9001 helps Win2uit ensure its customers consistently receive high-quality products and services, bringing many benefits.
Win2uit is a U.S.-based company headquartered in Louisville, Kentucky. We are located within a day's drive of 65% of the American population. Areas served include the Mid-West, Mid-Atlantic, and Southeast regions of the U.S.